The best time of year has finally come. Week 1 is here and so are my college football picks. I know all of us have spent lots of time planning for the upcoming season. I'm sure most of you, like myself, have been figuring what games to go to, what to bring to the tailgates, and most importantly, how to win some money.
I am really excited and honored to be posting my plays and write-ups on The Saturday Edge with such esteemed colleagues. It's been a great learning experience.
My Strategy
To give you a little perspective on how my analysis works, I combine a statistical perspective as well as a situational twist. The first thing I do is run stats. I have developed a statistical model that compares one team against another (specifically offense vs. defense) and takes into account almost every factor possible. This statistical model predicts the final score of the game.
I then adjust this score for situational perspectives. I am a big situational player. I recognize the fact that we are dealing with 18-22 year old kids, and emotions play a big part. Every college football player wants to go out and win; for their classmates, their school, their draft stock, to get the girls, you name it. Stemming from emotions, you have motivation, home field advantages, coaching advantages, penalties, etc. These factors will swing a game one way or another.
Finally, I like to analyze where money is coming in, and really try to think about why the bookmakers have the line set where it is. A lot of times the public perception of a team leads to the book setting or keeping values at unique and interesting spots.
Finally, I attribute a 1-5* unit bet on plays. We have had good discussion on one of my previous articles which can be found here, on flat betting vs. unit betting. I do feel as though there are teams I know better, and spots I like better, so I attribute more unit value to certain plays. I've had seasons where I've finished under 52.5% and still been up a good unit amount on the season. You will rarely ever see me play a 5* unit play. I average 1.5* units.
I typically have a few plays during the in-week games and around five on the weekends. Each play will always come with a write up.
I will look to utilize halftime and in-game plays, especially on Saturdays. With all the games going on, there are so many lines for bookmakers and other cappers to analyze in game. It becomes increasingly hard unless you're watching like four games at once (which I do). These lines will be much less penetrated, so expect these plays and be sure to check my blog post throughout the day (these plays obviously come with a much shorter write-up).
Week 1 College Football Picks
Now that I spent 2 solid days capping the LA Tech vs. Texas A&M game that is now postponed, I am going to look at the rest of the week. I have a few more spots that I really like in Week 1.
When analyzing early week games, I try to keep a few things in mind. There is value on the early week games, but I feel much more comfortable having big plays later in the season when you can have more situational analysis. In the first few weeks, you never know what you're going to get from a team. Will they come out strong and ready to go or underprepared?
Something I really like to have a side against is a new coach vs. an experienced team with a returning coach. To make this side even better, if the new coach has a new QB and is playing a team with an experienced QB, I value that even more. This is somewhat the case we have with BYU vs. Wash St. This will be my first play of Week 1 in the 2012 season (not including futures and win totals).
---
1.5* Units, BYU -12.5 vs. Washington State – WIN

1*Unit, Auburn +3.5 vs. Clemson – LOSS
2*Units, Kentucky +13.5 vs. Louisville – LOSS
1.5* Units, Northwestern pk  vs. Syracuse – WIN
2.5* Units, Alabama -13.5 vs Michigan – WIN
1* unit, GA Tech +4.5 First Half – WIN

1* unit, GA Tech Over 10 pts First Half – LOSS

1* unit, GA Tech +7.5 Game (may rise in value as game approaches) – WIN

---
1.5* Units
BYU -12.5 vs. Washington State

There is tons of hype surrounding Washington State. They have Mike Leach coming in to turn this program around. He gets the reigns of an already pass heavy offense. The offense will most-likely be led by Jeff Tuel. Tuel played in 2010, and missed the greater part of last season with injuries. He's a solid QB. I have no doubt that Wash St will be throwing the ball this game, and a lot in Leach's patented Air-Raid offense. They barely ran the ball last year, and will probably run it even less this year.
Lets dive a little deeper into the "Air-Raid" offense. It is very dependent on the audible. A lot of this obviously falls on the QB. Even with an experienced QB, he has not been surrounded by Leach that long. He also probably has not had as extensive of preparation reading defenses for this offense.  Almost 90% of run plays are called at the line of scrimmage. The QB will throw the ball probably 75% of the time. The O-Line is also distributed differently, opening up more inside sack lanes, but harder for the secondary to reach the QB. I think once figured out, this offense can be extremely successful. First game of the season though, may get interesting.
The big question is who can get a few stops?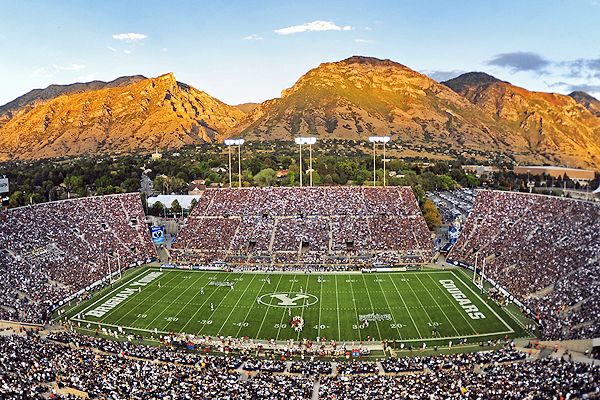 There are a few things that are typical of the first few weeks of football: Bad tackling by defenses, and offense not in sync. BYU returns 3 very experienced D-Lineman. They also return all 3 starting LB from last year. This should be an advantage against the O-Line that is trying to get down a new offense. Finally at CB, probably the most important position in this game against Washington St, BYU returns a very solid CB tandem.
I think with the experienced BYU defense going against a new coach with a new QB and a new system, there will be some 3 and outs. I don't think BYU will have as much of the 1st game rusty-ness that most teams show because they have a mature defense. A key for BYU is to get pressure on the Cougar QB. They have more success with this than they had last year because they won't have to focus on the run as much.   It takes awhile for new offenses to get in sync, and things are stacked against Washington St playing on the road, with a new system, against the experienced BYU defense in this one. They will score through the air, but I don't see them keeping pace with BYU.
I could go on and on about BYU Offense, but against this Washington St. defense, it isn't worth it. They will score a lot. I don't see Washington State getting many stops. Their defense got torched last year by almost everyone they played, and they are in the midst of learning a new scheme as well, deploying a 3-4 scheme. I don't see Washington St getting much pressure on senior QB Riley Nelson.
Adding value to play for a few reasons. I think the public is putting a lot of value on Leach. I don't disagree with them per se, he will turn things around. I just think that it will take time. Also, this spot is at -12.5, which is under two key numbers for me: 14, and 13.  A reason the play is not a higher unit value, is because its early in the season, and I never know what you will get from each team.
If BYU can shut down talented WR Marquess Wilson and get some pressure on Tuel, I think the experienced team, returning a lot of key starters and having a coach carry over win this game by double digits in their home opener. With the offensive firepower of Wash St. though,  beware of backdoor…
Final Score
BYU 38, Washington State 20
---
1*Unit
Auburn +3.5 vs. Clemson
This one should be a tough fought game.  Clemson returns a lot of players, as does Auburn. Game is at the Georgia Dome, where Auburn is deemed as the home team (and frankly, I think they will be with the crowd). They will be hosting quite a few recruits at this game, so a tiny bit added incentive to impress.
Last year, Auburn couldn't get anything going on offense. Chizik realized this, and hired a new OC who favors the pro-style offense but combines a lot of different types of things. This works out for Onterio McCalebb, the electrifying RB for the Tigers now that Dyer is gone. I expect them to spread the ball around to their playmakers and let them do the work.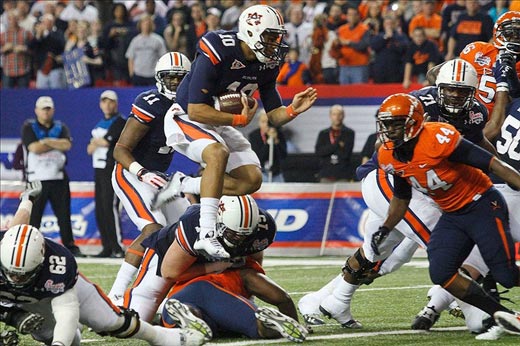 I'm going to compare who returns players and what team has the advantage.
QB: Clemson
RB: Auburn. I know this can be argued but McCalebb had better YPC and YPC after contact. Close either way.
WR: Auburn. Specially with Watkins suspended.
TE: Clemson. Barely, even with Allen gone. Their TE won't be able to do much against Auburn's LB though.
O-Line: Even. Clemson returns 2, one being a superstar. Auburn returns 3 average.
D-Line: Auburn. They return literally all of them.
LB: Clemson. Barely.
Secondary: Even.
When it comes down to it, these teams are fairly even. I would rank Clemson's O a bit better than Auburns, but I would rank Auburn's D a bit better than Clemson's.
I give the coaching to Auburn. Auburn plays in a tougher conference. Auburn is going to have more fans here. Clemson has the ability to get absolutely embarrassed in any game. Auburn lost to Clemson last year by 14, at Clemson. I think both teams will be solid and this will be a hard fought game.
The reason I back Auburn here is because of the trenches. Clemson has serious issues on the O-Line, and I am confident with Auburn D-Line. They should disrupt plays and have a big crowd backing them. I think this game will start slow, and should be a defensive battle (surprisingly).
In the end, I think it comes down to the end, and I think Auburn holds them out. I like this play mainly because it is over the key point of 3. 2.5 is no play for me. I think it could be a FG game, either way.
Final Score
Auburn 28, Clemson 27
(Link to @JimmyShivers Play on this game)
---
2*Units
Kentucky +13.5 vs. Louisville
When I did my conference preview I obviously was not high on Kentucky.  At the end of the day, Kentucky is an SEC team.  Last year Kentucky lost to Louisville, Florida, LSU, SC, Miss St., Vandy and Georgia. Kentucky's season was not benefited by having numerous injuries along the way. It got to the point where they eventually had to start a WR at QB and basically just running the wild cat. I would be hard pressed to believe that Louisville would have won any of those games that Kentucky lost. They come off of a motivational win in the last game of the season against Tennessee at home.
On the contrary, Lousiville lost to FIU, Marshall, UNC, UC, Pitt, and NC State in the bowl. I think UK would have an equal chance to have a 7-5 record playing the Cardinals schedule.  So, with that being said, this is a new year. I think this is a situation where you cannot rely on the last taste in your mouth. So many bettors and cappers get so stuck on what a team did "last." Maybe it's the last game, or the last play of the game, or the last season. Most teams revert to the mean. What can you carry over? Experience and Motivation.
In your typical situation, the instate rival is the worst team you could lose too. Ole Miss hates losing to Miss St. Florida and Florida St have a huge rivalry. South Carolina and Clemson. You can go on and on. Here Kentucky has their first game of the season, against their in-state rival. Beyond that, they have been shit on all off-season, and Louisville is being touted as a top-25 team.  Kentucky will want to win this game, and they are a double digit dog. You don't get that too much in close rivalries, especially an SEC team as that dog.
UK returns 2 QBs with experience. They return all of their RBs; whom I might add all have over 4 YPC. They return 2 players on the O-Line with a lot of experience. Not too terrible. If anything, this Kentucky Offense CANNOT be worse. They averaged 16 points per game, which is utterly horrid. You adjust that for their schedule, and that raises to about 23 points per game. Still not the best, but butter.
On defense, Da Ville is solid. They return quite a bit of starters (7).  Louisville definitely has a solid defense, but UK will score. They aren't inept. They averaged 16 points per game. I think they end up scoring probably around 20. So do you think Louisville puts up 33?
Louisville has their QB Teddy Bridgewater returning. He had a pretty solid completion rate when he played,  but threw his fair share of INTs. I expect that rate to lower a bit this year, but I do expect him to make some mistakes in the first game of the season.  They have some solid skill players to surround Bridgewater, so I do see them scoring. I don't see them putting up more than 30 points though (they only did it twice last year against WVU and USF). I see them staying around their average of 27 points.
Why I think UK keeps it close? They will win the battle in the trenches. They have four solid RBs, and a great D-Line. They will slow the clock down, and force Bridgewater to beat them through the air.  UK also has a huge advantage on special teams. This game could come down to field position. They return their place kicker and have a great punter stepping in. Da Ville lost both and has question marks in this spot, possibly freshman.
I don't love laying against a better defense and a better QB, but an instate rivalry, against an SEC team as a double digit dog? Yes please. I think Da Ville hangs on, but I also have an outside shot of UK taking this one.
Final Score:
Da Ville 27,  UK 20
(Link to GoSooners Play on this game)
---
1.5* Units
Northwestern pk vs. Syrcause
I like Northwestern quite a bit in this spot. I did some back and forth with Dave Bartoo of @CFBMatrix , and his system also highlights Northwestern here. They have a coach that absolutely kills it on the road. On the contrary, Cuse struggles at home.
Not only do they struggle at home, it appears as though they are implementing a new offense as well. Syracuse Coach Marrone has not opened up practices to the public, giving the perception that he is doing something new. If this is the case, this is another factor that favors Northwestern. Cuse didn't have a stellar offense to begin with last year, ranking 90, and throwing a new O at them is going to take time to get together.  College offenses already struggle week 1 getting the rusty-ness off, and adding a new offense to the picture makes it worse.
Syracuse had a pretty solid defense last year, but they lose quite a bit from their front 7. That does not bode well against a Northwestern team that comes in with a very efficient run game.  Northwestern statistically is a team that takes advantage of what they have in front of them, and that is perfectly explained by the coach. He said in the first game, they are worried about themselves and are ready to make changes necessary.
Finally, I like Northwestern here because they have playmaker Kain Colter returning. Their top returning QB, RB, and WR is Colter. He makes stuff happen and keeps Northwestern in games.
I think it will be a close game, but Northwestern is more mature, with a playmaker running the show, and a coach that can adapt and win on the road. The stats favor NW as does the situational edge as well.
Final Score:
Northwestern 27, Cuse 24
---
2,5* Units
Alabama -13.5 vs Michigan
At first glance, there was way to much going on with this game, I was going to lay off. I've come to my senses and had some pretty big realizations. As much Michigan is as a football powerhouse, Bama wrote the damn bible on being a football factory.
They have the best coaching staff in the country, they have better recruits, they have a better defense, they have a better O-Line, they have a better leadership, they have better special teams, blah blah blah.
The big question everyone has about Bama is their defense. Lets be real. They lost quite a few studs, but every single player that is stepping in on the depth chart to start has had some sort of playing experience. Michigan, and Denard are not going to shred this defense by any means. This will be BY FAR, the fastest defense Denard has ever seen.
Denard is a superstar, but he is prone to making mistakes. I think that will be a game changer here. He will get knocked around and won't take care of the ball, especially with Fitz suspended.
The question becomes, can Bama score? Lacy is no slouch for a RB, as he shared some carries with TRich last year. We saw glimpses of brilliance from McCarron towards the end of last year and I really think he will perform this season. I mean come on, if I had that offensive line I could throw for 4,000 yards (that is, if I could see over them).
Listen, I love Saban about as much (or more) as any other female on this planet. He is a mastermind, and give him this long to prepare for a team, you saw what happened last year. I could also see a ST or Def score here for Bama. I think Michigan might score a fluky TD, but they won't score a lot. When it comes down to it, is there SEC Bias? hell yeah. Is it deserved? You tell me.
I think Denard may actually tie his shoes for this one. Roll Tide.
Final Score:
Alabama 31, Michigan 10
---
1* unit, GA Tech +4.5 First Half
1* unit, GA Tech Over 10 pts First Half
1* unit, GA Tech +7.5 Game (may rise in value as game approaches)
Pending: 2nd half play (depends on how well VA Tech grasp the option)
The Monday night college game is a marque match-up between conference foes, VA Tech and GA Tech.  The game will take place in Blacksburg, home of the Hokies. It will be a fired up environment and both teams should be really jacked to get out and play after watching the first weekend of games, so right there, I don't see much of a motivational edge.
There are a few big factors to recognize in this game. First, VA Tech has zero offensive line. They return one seasoned starter. I fully predict and expect them to get dominated in the trenches on that side of the ball, at least early on. GA Tech's achilies heal has predominantly been their defense. Once they get down by a relatively large quantity, the offense becomes forced to pass which is not a comfortable situation for them. I think with Tech losing David Wilson, their top 2 receivers and most of their O-line, GA Tech has an added benefit on defense, and ultimately on offense.
The other thing you have to cap in this game is the untraditional option attack of GA Tech. Tevin Washington returns as their leading rusher as well as passer. They also have their two best rushing backs returning as well. On top of that, they only lose one offensive lineman which is great news for an untraditional option offense. It takes a while for the lineman to pick up this offense, how to pull and what their assignments are.
VA Tech has a stout defense returning as well, but regardless of how good you are, playing an option defense is tough.  Because mostly every player has had experience playing against the option offense is one reason the unit play will not be as large.
GA Tech is an extremely strong first half team. Once GA Tech opponents figure out their offense and how to defend it, their statistical advantage decreases dramatically.  GA Tech needs to have the lead going into the 4th so that they are not pressured into a pass heavy offensive attack. I think that they come out and run the ball well in the first half.
As I've been saying all week, it is very typical for a defense to miss some tackles in the first game of the season, regardless of experience. I think that benefits Tevin Washington and this offense.  I think the GA Tech defense will be able to keep them closer this year than last, and the game is a field goal, going either way.
Final Score
GA  Tech 34, Va Tech 31
---
Leans:
South Carolina -6.5 : Not playing because I'm not sure of Vandy's offense vs. SC defense that lost quite a few players. I think Lattimore and Shaw will score, but I also think Vandy may be able to score.
Minnesota -8.5 : Not playing, but I think Minnesota definitely wins this game. Think the score is going to be something like 24-17. That backdoor fieldgoal seems to prone to happen. I also just don't feel like watching these two terrible teams.
Michigan St -7: Like their D alot here. Just unsure of how Boise comes out. If their offense didn't regress much, watch out.  -6.5 would probably illicit a play from me.
PSU -6.5: I think they come out so motivated here to prove they are over the Sandusky stuff. Not playing for moral reasons and I don't see how their offense scores. I morally don't play on trash offenses.
---
More plays will follow. For at-the-minute plays and ideas, follow @mtsabert on twitter.